For other pages that use the title, see Cutie Honey (Disambiguation).Cutie Honey is a 1973 anime based on the manga of the same name produced by Toei Animation and Go Nagai's Dynamic Productions.
Story
The anime tells the adventures of the main protagonist Honey Kisaragi an android modeled after the late daughter of Dr. Kisaragi and her battle against Panther Claw who she seeks revenge on for killing her father as the heroic "Cutie Honey." She attends a Catholic School called St. Chapel Academy with her friend Natsuko Aki as part of her secret identity while also getting help in both of her lives from the Hayami Family especially Seiji Hayami.
Episodes
DVD Release
On July 17, 2013, anime license distributor Discotek Media announced a DVD box set was in the works for a Region 1 release. On September 21, 2013 the box sets became available for pre-order on their website. On November 26, 2013, the series was released for purchase online.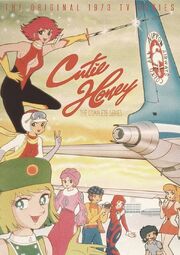 External links