For other pages that use the title, see Cutie Honey (Disambiguation).
Cutie Honey is a 1973 anime based on the manga of the same name produced by Toei Animation and Go Nagai's Dynamic Productions. The writing was headed by Masaki Tsuji with help from other screenwriters while art was headed by Shingo Araki.
Production Edit
Cutie Honey was built to be an original series following a girl character in the Toei Animation timeslot after some previous Magical Girl series, but the original concept had to be changed into something different than what was already established including making changes to the character such as making her more independent as well as lack a love interest. The creator of the series Go Nagai gave Honey a transforming hero gimmick as the Henshin Boom of Japanese Television was still in effect based on previous series such as Kikaider. The seven transformations gimmick was borrowed from short tokusatsu such as Rainbowman. When designing personality and other character aspects, Honey used borrowed material from some of his previous works such as Abashiri Ikka while making Honey a character that could be enjoyed by both a male and female audience in that she "strong, sexy, and fashionable" and does not fit the negative stereotypes that people think of when it comes to immodest dressing. Writing was handled by established veterans. Overall, the series had a high viewing rate with a theme song that is fondly remembered to this day.
The anime tells the adventures of the main protagonist Honey Kisaragi an android modeled after the late daughter of Dr. Kisaragi and her battle against Panther Claw who she seeks revenge on for killing her father as the heroic "Cutie Honey". She attends a Catholic School called St. Chapel Academy with her friend Natsuko Aki as part of her secret identity while also getting help in both of her lives from the Hayami Family, especially Seiji Hayami.
DVD ReleaseEdit
On July 17, 2013, anime license distributor Discotek Media announced a DVD box set was in the works for a Region 1 release. On September 21, 2013 the box sets became available for pre-order on their website. On November 26, 2013, the series was released for purchase online.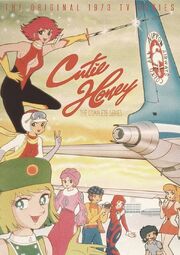 External linksEdit