Cutie Honey is a 1973 anime based on the manga of the same name produced by Toei Animation and Go Nagai's Dynamic Productions.
Story
The anime tells the adventures of the main protagonist Honey Kisaragi an android modeled after the late daughter of Dr. Kisaragi and her battle against Panther Claw who she seeks revenge on for killing her father as the heroic "Cutie Honey." She attends a Catholic School with her friend Natsuko Aki as part of her secret identity while also getting help in both of her lives from the Hayami Family especially Seiji Hayami.
Episodes
#
Title
Original airdate
1
The Black Claw Grips the Heart
Kuroi Tsume ga Hāto o Tsukamu (黒い爪がハートを掴む)
1973-10-13
2
The Night of Fiery Tree Peony: The Sword's Whirl
Yoru no Hi Botan Tsurugi no Mai (夜の火牡丹 剣の舞い)
1973-10-20
3
The Red Axe Lays A Trap
Akai Ono ga Wana o Haru (赤い斧が罠を張る)
1973-10-27
4
I Saw the Demon in the Beautiful Forest
Utsukushī ga Mori ni Akuma o Mita (美しヶ森に悪魔を見た)
1973-11-03
5
The Crimson Sky is Satan's Curse
Kurenai no Sora Wa Akuma no Noroi (虹の空は悪魔の呪い)
1973-11-10
6
Dreams Torn, The Black Scissors
Yume o Saku Kuroi Hasami (夢を裂く黒い鋏)
1973-11-17
7
The Black Panther Sings, The Dance of Death
Kurohyō ga Utau Shi no Odori (黒豹が唄う死の踊り)
1973-11-24
8
Demon Calls From The Deep Blue Sea
Akuma ga Yobu Aoi Kaitei (悪魔が呼ぶ蒼い海底)
1973-12-01
9
To Silence the Demon's Whistle
Akuma no Kuchibue o Kese (悪魔の口笛を消せ)
1973-12-08
10
Phantom Castle Choked in Fog
Kiri ni Musebu Maboroshi no Shiro (霧にむせぶ幻の城)
1973-12-15
11
Hands off the Gold
Ōgon ni Te wo Dasuna (黄金に手を出すな)
1973-12-22
12
The Eternal Red Pearl
Akai Shinju wa Eien Ni" (赤い真珠は永遠に)
1973-12-29
13
Tears are the Depths of the Valley
Namida wa Taniai no Okubukaiku (涙は谷間の奥深く)
1974-01-05
14
Ah, The School's Final Day
Aa Gakuen Saigo no hi (ああ学園最後の日)
1974-01-12
15
Returning to the Debris with Tears of Rage
Ikari no Namida de Burikaere (怒りの涙でふり返れ)
1974-01-19
16
From the Casino with Love
Kashino Yori Ai o Komete (カジノより愛をこめて)
1974-01-26
17
The Storm Vanishes to the North
Kita no Hatte ni Arashi wa Kiete (北の果てに嵐は消えて)
1974-02 -02
18
Hot Blood Flaring Up
Moeagaru Akai Chishio (燃え上がる赤い血潮)
1974-02-09
19
A Flower Blooms in the Distant Wilderness
Harukanaru Koya ni Saku Hana (遥かなる荒野に咲く花)
1974-02-16
20
Loss of the Imaginary Capital
Ushinawareta Kasetsu No Miyako (失われた伝説の都)
1974-02-23
21
A Black Shadow Stands in the Green Field
Midori no Ya ni Tatsu Kuroi Kage (緑の野に立つ黒い影!!)
1974-03-02
22
Yearning for Paradise School
Akogare no Paradaisu Gakuen (あこがれのパラダイス学園)
1974-03-09
23

The Bewitching Scorpio Woman
Ayashiki Sasoriza no Onna (妖しきサソリ座の女)

1974-03-16
24

Song of The Proud Challenger
Hokori Takaki Chosensha no Uta (誇り高き挑戦者の詩)

1974-03-23
25

A Poison Flower Shatters in Underworld
Jigoku ni Chitta Doku no Hana (地獄に散った毒の花)

1974-03-30
DVD Release
On July 17, 2013, anime license distributor Discotek Media announced a DVD box set was in the works for a Region 1 release. On September 21, 2013 the box sets became available for pre-order on their website. On November 26, 2013, the series was released for purchase online.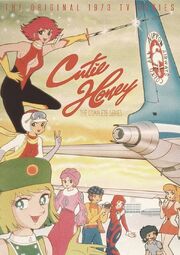 External links
Community content is available under
CC-BY-SA
unless otherwise noted.