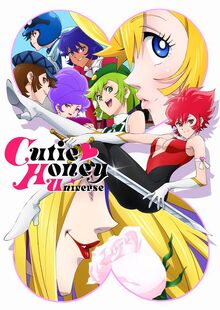 Cutie Honey Universe is an upcoming anime series premiering in April 2018.[1] The series is to commemorate creator Go Nagai's 50th anniversary as a mangaka.[2]
Production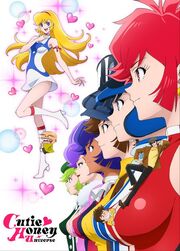 The anime will be directed by Production Reed's Akitoshi Yokoyama. The series composition will be handled by Natsuko Takahashi while Syuichi Iseki is the character designer and chief animation director.
[3]
Idol unit AŌP will perform the series' theme song.
Summary
At the moment, not much is known about the series save for Honey Kisaragi, her role as Cutie Honey, as well as her battle against Panther Claw. She is assisted by the Hayami family consisting of Seiji, Danbei, and Junpei; as well as an unnamed detective.
Videos
References
↑ Cutie Honey Universe: A new trailer unveils the cast of the anime signed by Production Reed (Italian)
External Links