m (episodes and grammar)

Line 1:
Line 1:
 

[[File:Ch keyvisual.jpg|thumb|310x310px]]

 

[[File:Ch keyvisual.jpg|thumb|310x310px]]

−

'''Cutie Honey Universe''' is an upcoming anime series premiering in April 2018.<ref>[http://www.gonagaiworld.com/cutie-honey-universe-un-trailer-svela-cast-dellanime-firmato-production-reed/ Cutie Honey Universe: A new trailer unveils the cast of the anime signed by Production Reed (Italian)]</ref> The series is to commemorate creator [[Go Nagai|Go Nagai's]] 50th anniversary as a mangaka.<ref>[https://natalie.mu/comic/news/262201 Go Nagai's Cutie Honey gets a 'Cool-Cute' Concept as a 2018 Anime (Japanese)]</ref>

+

'''Cutie Honey Universe''' is an upcoming anime series in April 2018.<ref>[http://www.gonagaiworld.com/cutie-honey-universe-un-trailer-svela-cast-dellanime-firmato-production-reed/ Cutie Honey Universe: A new trailer unveils the cast of the anime signed by Production Reed (Italian)]</ref> The series is to commemorate creator [[Go Nagai|Go Nagai's]] 50th anniversary as a mangaka.<ref>[https://natalie.mu/comic/news/262201 Go Nagai's Cutie Honey gets a 'Cool-Cute' Concept as a 2018 Anime (Japanese)]</ref>

 
 
 

==Production==

 

==Production==

 

[[File:CutieHoneyUniverse.jpg|thumb|Cutie Honey Universe Teaser|left]]The anime will be directed by Production Reed's Akitoshi Yokoyama. The series composition will be handled by Natsuko Takahashi while Syuichi Iseki is the character designer and chief animation director.<ref>[https://www.animenewsnetwork.com/news/2017-12-21/new-cutie-honey-universe-anime-announced-for-2018/.125609 New Cutie Honey Universe Anime Announced for 2018]

 

[[File:CutieHoneyUniverse.jpg|thumb|Cutie Honey Universe Teaser|left]]The anime will be directed by Production Reed's Akitoshi Yokoyama. The series composition will be handled by Natsuko Takahashi while Syuichi Iseki is the character designer and chief animation director.<ref>[https://www.animenewsnetwork.com/news/2017-12-21/new-cutie-honey-universe-anime-announced-for-2018/.125609 New Cutie Honey Universe Anime Announced for 2018]

−

</ref> Idol unit AŌP will perform the series' theme song "Ai ga Nakucha Tatakaenai" (I Can't Fight Without Love). luz is performing the ending theme song "SISTER." The anime will premiere on April 8 at 9:00 p.m. on the  channel, and then run on the  1 and channels. Sentai Filmworks has licensed the anime for a spring simulcast season on HIDIVE beginning on April 8, 2018.<ref>[https://www.animenewsnetwork.com/news/2018-03-29/sentai-filmworks-licenses-cutie-honey-universe-anime/.129682 Sentai Filmworks Licenses Cutie Honey Universe Anime]

+

</ref> Idol unit AŌP will perform the series' theme song "Ai ga Nakucha Tatakaenai" (I Can't Fight Without Love). luz is performing the ending theme song "SISTER" The anime will premiere on April 8 on the ,   . Sentai Filmworks has licensed the anime for a spring simulcast season on HIDIVE beginning on April 8, 2018.<ref>[https://www.animenewsnetwork.com/news/2018-03-29/sentai-filmworks-licenses-cutie-honey-universe-anime/.129682 Sentai Filmworks Licenses Cutie Honey Universe Anime]

 

</ref>

 

</ref>

 
 
 

== Summary ==

 

== Summary ==

 

The series follows [[Honey Kisaragi (Universe)|Honey Kisaragi]], an amazingly humanlike and fashion conscious android with the unique ability to transform her body into a wide range of outrageous yet stylish disguises, each of which comes with its own dazzling super ability. After a run-in with a sinister secret criminal cabal organization, [[Panther Claw (Universe)|Panther Claw]], the luscious and law-abiding Honey makes it her mission to bring them down.

 

The series follows [[Honey Kisaragi (Universe)|Honey Kisaragi]], an amazingly humanlike and fashion conscious android with the unique ability to transform her body into a wide range of outrageous yet stylish disguises, each of which comes with its own dazzling super ability. After a run-in with a sinister secret criminal cabal organization, [[Panther Claw (Universe)|Panther Claw]], the luscious and law-abiding Honey makes it her mission to bring them down.

 
+

==Episodes==

−
 
 
+

#Everything About You Is Perfect (April 8, 2018)

 

== Videos ==

 

== Videos ==

 

<gallery>

 

<gallery>
---
Revision as of 07:07, 9 April 2018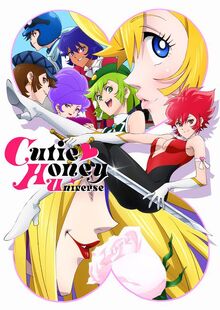 Cutie Honey Universe is an upcoming anime series that premiered in April 8, 2018.[1] The series is to commemorate creator Go Nagai's 50th anniversary as a mangaka.[2]
Production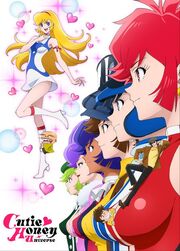 The anime will be directed by Production Reed's Akitoshi Yokoyama. The series composition will be handled by Natsuko Takahashi while Syuichi Iseki is the character designer and chief animation director.[3] Idol unit AŌP will perform the series' theme song "Ai ga Nakucha Tatakaenai" (I Can't Fight Without Love). luz is performing the ending theme song "SISTER". The anime will premiere on April 8 on the AT-X, TOKYO-MX channels etc. Sentai Filmworks has licensed the anime for a spring simulcast season on HIDIVE beginning on April 8, 2018.[4]
Summary
The series follows Honey Kisaragi, an amazingly humanlike and fashion conscious android with the unique ability to transform her body into a wide range of outrageous yet stylish disguises, each of which comes with its own dazzling super ability. After a run-in with a sinister secret criminal cabal organization, Panther Claw, the luscious and law-abiding Honey makes it her mission to bring them down.
Episodes
Everything About You Is Perfect (April 8, 2018)
Videos
References
External Links